Chris Ritchey – Church Secretary, Director of Children's Ministry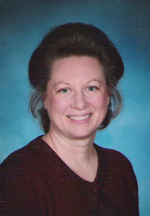 Hi! My name is Christine Ritchey, although my friends call me Chris. I am the pastor's wife and church secretary as well as the Children's Ministry director. I graduated from God's Bible School in Cincinnati, OH with a bachelor's degree majoring in Psychology in May of 1981 and married my husband in October of that same year. We lived and pastored in Barberton, OH for 5 years and then came to Oak Grove in 1986. We have three wonderful children, a son-in-law and two daughters-in-law that are the greatest joys of our lives. They all have hearts for God…for which we could not be more grateful!  I am the proud Nana of four adorable grandchildren and I love each one dearly!  I am indeed blessed!
As director of the children's ministry here at Oak Grove, I am happy to say that we have a staffed Nursery and Toddler Church, as well as a Jr. Church. I love working with children and have done so for all of my married life, 33 years! Not only in the church setting, but I taught grades 5 & 6 in a private school setting, and also worked as a Kindergarten and Title 1 Reading aide at our local public school. I left all that behind in June 2009 and became the secretary here at our church. I love being home and the work that I am able to accomplish here at Oak Grove gives me great satisfaction.
My life has not been without hard times, but God has blessed me abundantly and at this "mid-life" time frame…LIFE IS GOOD! I might be over 50, but I can "text" and "face book" with the best of you! I love summer and all that it brings…the sun, the warmth, the gentle breezes, picnics, bare feet, water-skiing and vacations! I enjoy reading, family gatherings, chatting with friends, face timing with my "far away" children and loving on my sweet grand babies!
My heart's desire is to love and serve God with my whole heart and point others in the direction of HIM.